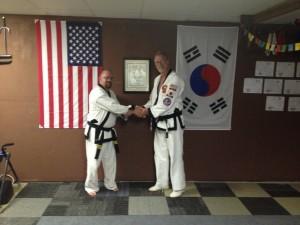 Mr. Reese & Master Beauchamp
This past summer the United States Tae Kwon Do Won welcomed a new member. Mr. Henry Reese of Evadale, Texas registered his dojang and personal membership with the USTW.
Mr. Reese is a good example of the kind of Tae Kwon Do practitioner that the USTW was designed to help. Through no personal fault of his own, he found himself orphaned from a formal relationship with a senior instructor. He is personally dedicated to the traditional values of Tae Kwon Do, but he was disappointed in his search for a traditional home. Mr. Reese found many schools in his area that were willing to make him an instructor without any concern for his technique or values as long as he paid an exorbitant franchise fee. Then he found the United States Tae Kwon Do Won web site. After communicating with Grand Master Kang, Master George Wukovich and Master Rob Beauchamp, Mr. Reese felt he had found an organization that he could join with pride.
In addition, Mr. Reese applied for dan conversion of his Third Dan Blackbelt and requested a USTW test for 4th Dan. Master Beauchamp and his wife Sallie, took this opportunity to combine some travel with USTW business and on July 23, 2013 conducted the promotion test for Mr. Reese. Pictured above is Master Beauchamp congratulating Mr. Reese on his successful promotion in front of his USTW club certificate.
Mr. Reese is currently building his club and spreading the word about the USTW. "GOOD LUCK"  Mr. Reese and welcome to the USTW!