USTW Honors Muscician
Persistence and Determination
Guided by Honor and Kindness
Keys to Success in Life
Not only Tae Kwon Do
As students of "Traditional" Tae Kwon Do we all emphasize the qualities that need to be cultivated in order to achieve high levels of skill in our martial art.
There are many that might be mentioned but especially important are….
"Persistence and Determination"- we must always strive to improve and demand the best from ourselves. We cannot put in half way effort and expect anything more than half way results. The willingness to remain devoted to our art through hard and difficult training cannot be overstated. We must always remind our students that there is no such thing as a secret or magical technique that will make us invincible. The secret truly is…..there are NO secrets. Some people have more natural talent and learn faster than others. But they will not make it to the higher levels of excellence unless they are willing to personally sacrifice. Without persistence and determination, true success cannot be achieved.
But there is certainly more at work than simple hard training and determined practice. We must also include
"Honor and Kindness"- As Grandmaster Kang has often said…."If we practice hard but do not emphasize discipline and honorable living; then we are nothing more than a 'street fighter'. The Tae Kwon Do code emphasizes personal honor in our own lives and our dealings with our friends, family and the public. The skills that we achieve in our martial art should make us respected and valued by our community…..not feared.
Grandmaster Kang has always emphasized that the skills we develop for Tae Kwon Do should be applied in the pursuit of excellence in all areas of our lives. Truly successful people in any area of life must use the values of "Persistence, Determination, Honor and Kindness". We all know of people who are very nice but who could not discipline themselves for great achievement. And we also know of people who are very talented and successful but have bad attitudes. A truly successful person achieves high goals and also enjoys the respect and love of friends who appreciate the quality of their lives.
Masters Rob and Sallie Beauchamp had the opportunity to honor a friend who has been devoted to our traditional values but is not a Tae Kwon Do student.
Mr. Tris Imboden has devoted himself to music and in particular, drums, since he was a child. He has worked in studio session with Neil Diamond, Kenny Loggins, Firefall, Richard Marx, Steve Val, Roger Daltry and Crosby, Stills and Nash. With the Kenny Loggins Band he performed on "Who's Right, Who's Wrong"….the number one hit "Footloose" and "I'm Alright" from the movie Cady Shack.
Since 1990 he has been the drummer for the world renowned group "Chicago". What can one say about "Chicago"? They are one of the most successful groups of all time, having sold more than one hundred million records and are second only to the "Beach Boys" in top "Billboard" singles.
Master Rob Beauchamp travels on airplanes a lot, and that is how he met Tris…..
Master Beauchamp tells the story of his meeting…..
"Sometimes we have the pleasure of meeting someone who just immediately disarms you with the honest warmth and interest they show. That's the way it was with Tris Imboden. We spoke for almost thirty minutes and exchanged pictures of wives and family. When he found out I was a nurse he made me feel like that was just the most exciting thing ever and he made me tell him everything about my career. Finally I asked him what he did and he said 'Oh, I'm a musician, I play rock and roll'. I asked him if he played session work and he said 'Yes, but I'm in a band right now.' Naturally I asked him the name of his band and he said without the slightest guile 'Oh, I don't know if you've heard of us. It's called Chicago.' "
"Well, I almost fell on the floor! Here was the drummer for arguably one of the top five rock and roll bands of all time and he thought it was exciting that I was a nurse. In my medical career I have had the occasion to meet a number of "famous" people who had horrible attitudes and in no way exemplified what we would call the important traditional values. Mr. Tris Imboden is truly an example of how a quality person behaves as he rises to achieve success in life. Before we finished that flight Tris introduced me to every member of the band and made sure I got their autographs on my boarding pass. In the following months we remained in touch and gradually became closer. Tris is a super dedicated and determined musician. In his personal life he has faced both medical and personal challenges and through it all has maintained an incredible attitude filled with kindness. It is a deeply appreciated honor that Sallie and I are able to call him our friend.
In the summer of 2013 I was chatting with Grandmaster Kang about the way my friend exemplified the values of Tae Kwon Do success in his life when I had the idea that perhaps we could honor his attitude with an honorary recognition by the United States Tae Kwon Do Won. With the support and assistance of Grandmaster Kang and the officers of the USTW such recognition was allowed."
In August 2013 an "Honorary" rank of 5th dan Master Instructor was awarded by Masters Rob and Sallie Beauchamp to Mr. Tris Imboden. The certificate reads, "In recognition of his contribution to the musical arts and his pursuit of excellence therein…And in further recognition of his generous and kind nature combined with an indomitable spirit of strength, persistence and determination….The United States Tae Kwon Do Won confers on and awards to Mr. Tris Imboden the Honorary rank of fifth dan Master Instructor. "
In the picture below Sallie and Rob officially present the award to Tris Imboden. His smile of excitement and appreciation is obvious and he expressed his deep gratitude to the USTW.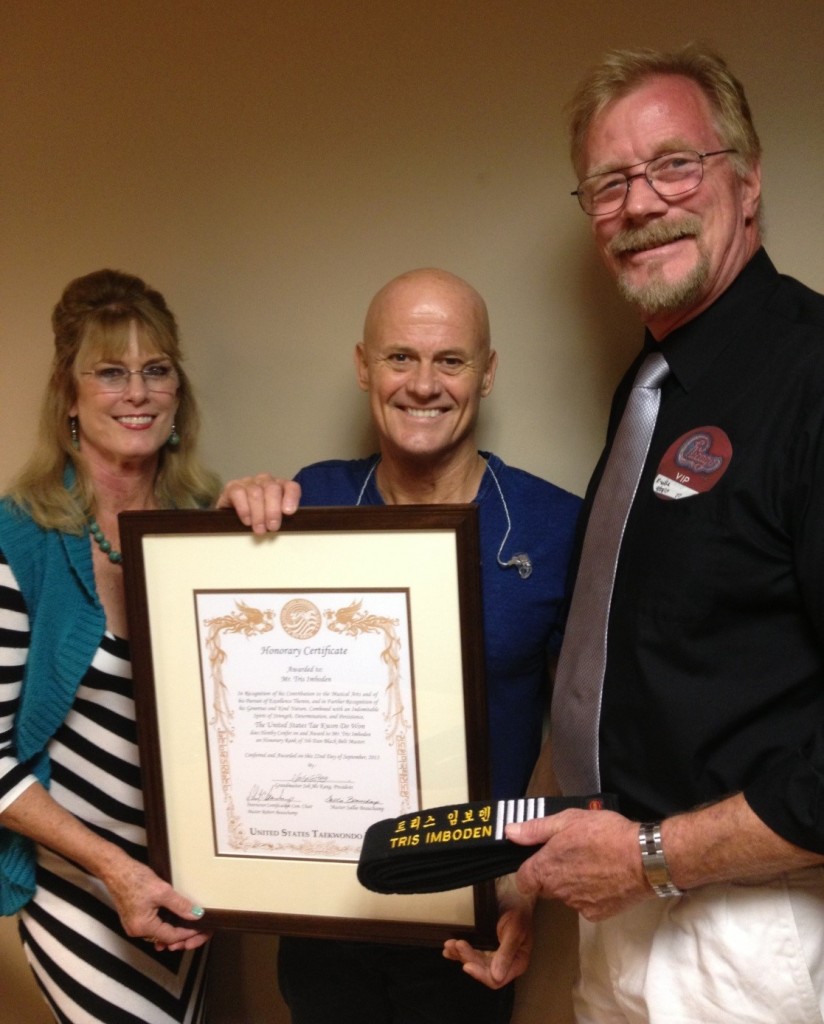 Left side Master Sallie Beauchamp     Center Mr. Tris Imboden        Right side Master Rob Beauchamp
In the picture below, Tris received congratulations from "Chicago" and posed with his fellow band members.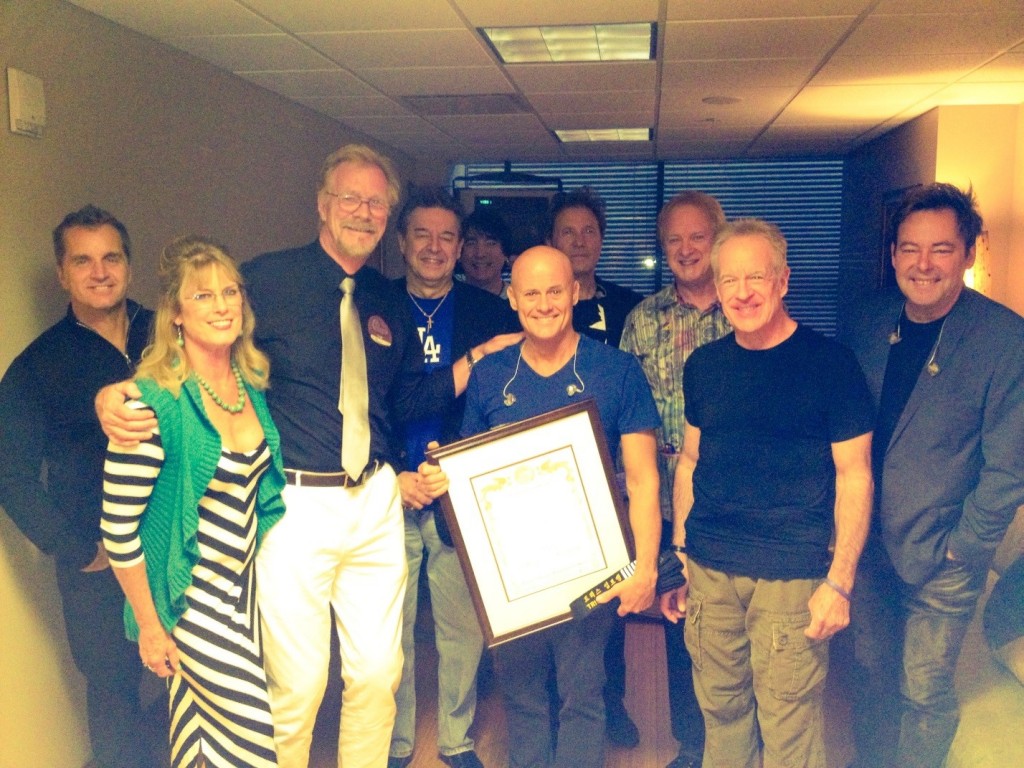 Left to right Jason Scheff (Bass), Master Sallie Beauchamp, Master Rob Beauchamp, Walter Parazaider(Woodwinds), Walfredo Reyes Jr. (Percussion),Tris Imboden(Drums), Robert Lamm(Guitar), Lee Loughnane(Trumpet), James Pankow(Trombone),Lou Pardini (Keyboards) Not pictured Keith Howland(Guitar)
Masters Rob and Sallie would like to thank the USTW for the opportunity to honor their friend and would especially like to thank Mr. Tris Imboden for being such an example of
Persistence and Dedication
Coupled with
Honor and Kindness
Be your best at Tae Kwon Do or whatever you do, with dedication and humility!